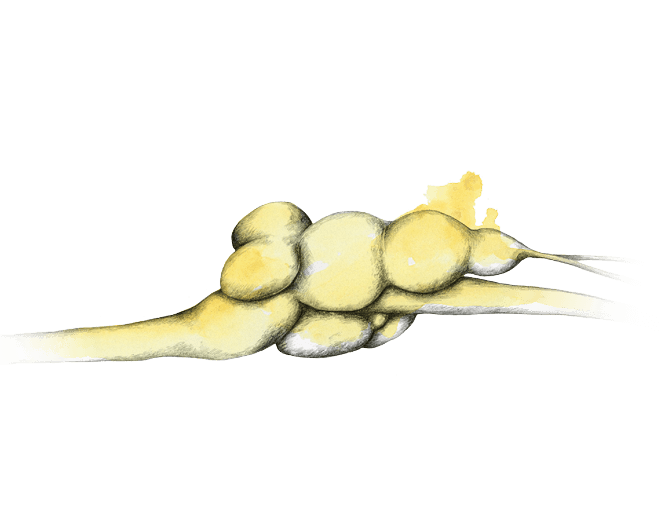 Make your fish hungry, faster
The brain's primary function is to translate stimuli into signals. There are a number of stimuli that influence feeding, including taste and hunger. Taste buds occur on the tongue, but also throughout the gut. They identify taste and trigger hormonal signals for digestion and growth. When the stomach is empty, the stomach tissue relaxes and this triggers one of the main signals for hunger to the brain. Faster emptying time of the feed from the stomach equals more frequent signalling to the brain to indicate that the fish is hungry. The efficient utilisation of Prime & Express feeds means that fish get hungry, faster.
Read more
Getting hungry - nutrient sensing
Fish, like humans, are influenced by taste. Research suggests that fish taste is more simplified than human taste; instead of responding to sweetness, fish taste receptors have a positive response to amino acids, allowing the fish to anticipate feed characteristics. Taste buds occur on the tongue, but also throughout the gut, and are responsible for identification of positive and negative taste responses, but also triggering hormonal signals for digestion and growth. This 'nutrient sensing' is the other pathway for hunger signalling, and we have found that stronger stimulation of gastric taste also promotes an elevated hunger signal when the stomach is empty. Based on this knowledge, Skretting ARC has found that changing the amino acid composition in feed can make it more appealing and thus achieve better feed intake. The 'hunger hormone' - ghrelin - is released from taste receptors in the stomach and acts on the hypothalamus in the brain, triggering hunger and feeding behaviour to prepare the body for food intake. Fish can anticipate feeding time, in much the same way as people can get hungry at the same time each day. Research has shown that it is possible to exploit this trait and achieve better digestion when fish are fed at the right time, when their bodies are primed to receive feed into the system.

Skretting ARC has conducted numerous trials to determine the taste that fish prefer. Results have shown that raw materials can be made more appetising by changing the structure of the proteins. Proteins are long chains of amino acids, and when proteins are processed in a particular way, they can be made more or less active in stimulation of the taste receptors. The final product is determined by the processing conditions and the specific raw materials used. The figures below show a significant increase in feed intake when using three palatability enhancers (shown in red) when compared with the control feed. A significant increase was also observed when compared to the krill meal positive control. These results formed the basis of the new Prime & Express feeds.
Feed Intake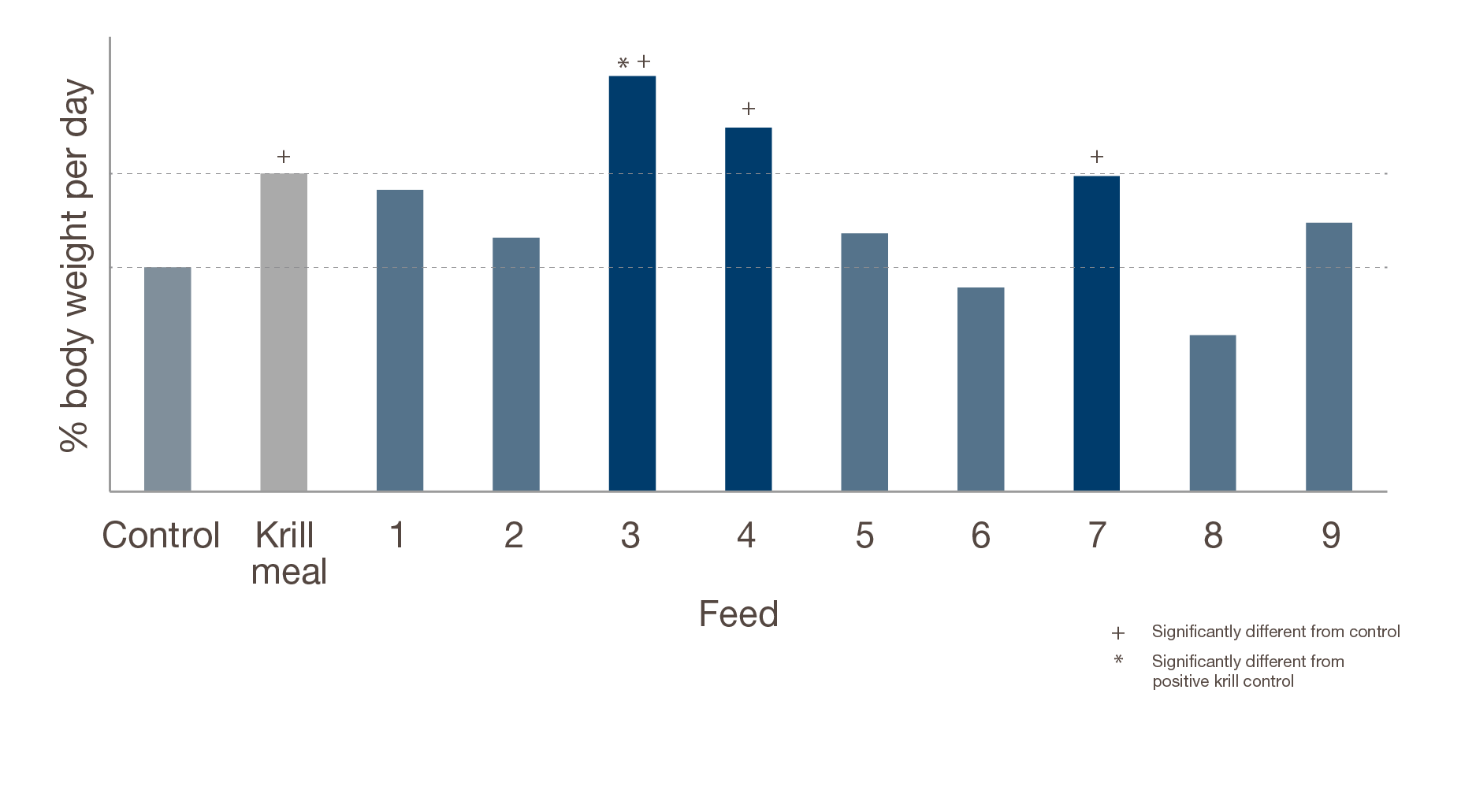 Additional kilograms of feed eaten over trial period